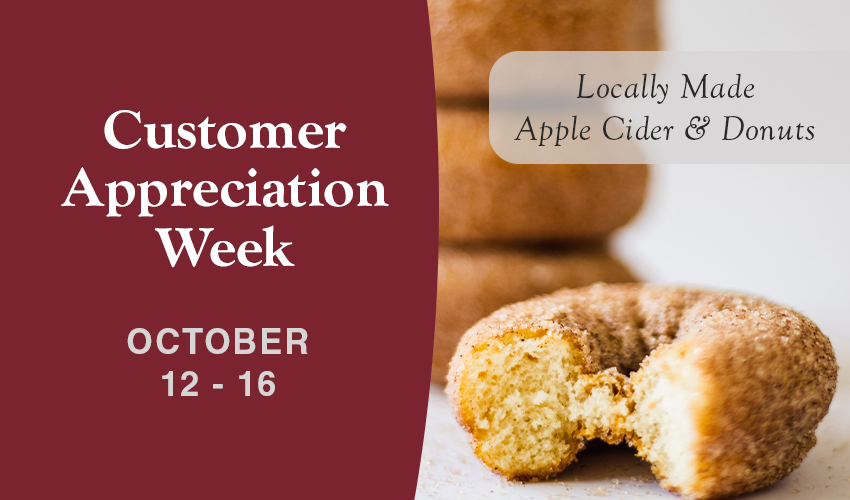 Monson Savings Bank Hosts Customer Appreciation Events October 12 - 16th, with Local Sweet Treats
Monson Savings Bank is hosting their annual Customer Appreciation Week from Tuesday, October 12th through Saturday, October 16th, to thank customers and community members for their support. During normal business hours, visitors can enjoy locally made apple cider and cider donuts at each branch location. Additionally, the Cookie Cart from Hot Oven Cookies will be visiting each location during scheduled times to serve fresh baked cookies.
"We are so appreciative to our customers for trusting in Monson Savings Bank as their local community Bank and wanted to do something to show our gratitude," said Dan Moriarty, President and CEO. "We take pride in helping our customers to reach their financial goals and because of their trust we are able to be successful and give back directly to our communities we serve."
Tuesday, October 12th – Saturday, October 16th:
Locally made apple cider and cider donuts available at all Monson Savings Bank branch locations during business hours.
The Hot Oven Cookies Cookie Cart will be on site at Monson Savings Bank branches during the following dates and times:
Tuesday, October 12th
11am – 1pm: Monson Branch, 146 Main Street
2pm – 4pm: Wilbraham Branch, 100 Post Office Park
Wednesday, October 13th
12pm – 2pm: Ware Branch, 136 West Street
Thursday, October 14th
11am – 1pm: Hampden Branch, 15 Somers Road
2pm - 4pm: East Longmeadow Branch, 61 North Main Street
Hot Oven Cookie flavors that will be available: Mexican Hot Chocolate Brookie, Dark Chocolate and Sea Salt Chip, Guava Cheesecake, Just PB, and Nutella Churro, while supplies last.
Back to Blog List