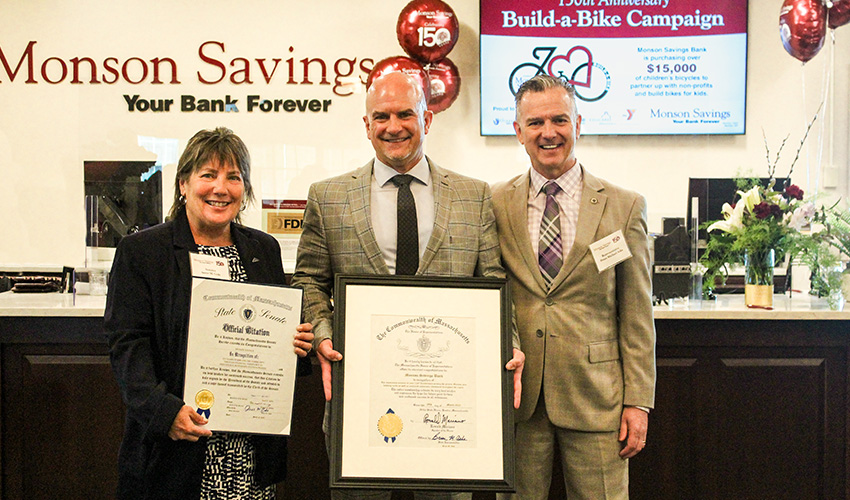 Monson Savings Bank Commemorates Sesquicentennial with 150th Anniversary Reception Event
To commemorate Monson Savings Bank's incorporation on March 27, 1872, an undeniably key moment in the Bank's 150 year history, the Bank recently invited members of the community to attend a 150th Anniversary Reception at the Monson Branch. Dan Moriarty, President and CEO of Monson Savings Bank, along with MSB team members, welcomed guests as they joined the celebration.
Furthermore, Dan Moriarty thanked many for their support of Monson Savings Bank over the years, including customers, employees, Corporators, and Trustees of the Bank.
Moriarty shared a brief history of Monson Savings Bank, he explained that the original objective of the Bank was "to enable all persons to invest earnings as they may choose, in a manner that will afford them security and profit. One of the benefits of a community bank is educational, to enable parents and guardians to cultivate savings habits and those for whom they care." Moriarty proudly expressed, "the Bank has stayed true to its roots."
Dignitaries, including local professionals, government officials, and community members attended the reception to show their support for Monson Savings Bank. State Senator Anne Gobi and Representative Brian M. Ashe, presented Monson Savings Bank with citations, and commended the Bank for reaching the momentous anniversary, while always remaining committed to actively supporting local residents, businesses, and communities.
Dan Moriarty, current President and CEO of Monson Savings Bank, and Michael Rouette, Executive Vice President and COO, were delighted to have past President Neil Marshall and past President, now Chairman of the Board, Steve Lowell, in attendance. Moreover, former Board of Directors, Corporators, and veteran employees of Monson Savings Bank were there to celebrate.
Dan Moriarty further stated, "We were very happy and proud to welcome members of the community to come celebrate our 150th Anniversary with us. For any business to reach a 150 year milestone is impressive, but it is almost unheard of for a bank to remain mutually independent and to not have gone through a merger for 150 years," said Dan Moriarty, Monson Savings Bank President and CEO. "We are extremely grateful to the local communities for their support throughout the years. Likewise, we are delighted to keep community banking alive and well in Western Massachusetts and give back to the communities that we serve every chance that we get."
To learn more about Monson Savings Bank's 150th Anniversary, the Bank's historical timeline, and to view a full schedule of events visit www.monsonsavings.bank/anniversary
Back to Blog List