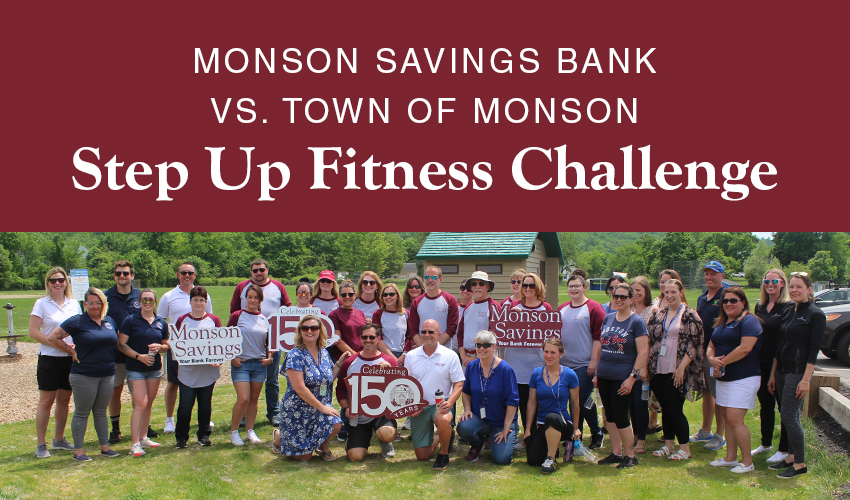 Monson Savings Bank & Town of Monson Go Head-to-Head in Step Up Fitness Challenge, in partnership with HNE
The heat is on! A Step Up Fitness Challenge is underway between Monson Savings Bank and the Town of Monson, with each boasting a team of employees to compete against one another in a fun, yet fierce, fitness challenge. Each team is lacing up and facing off to see who can log the most steps from June 1st-21st. The competition is in conjunction with Health New England.
In late May, at Veterans Field in Monson, a kickoff event with representatives from Monson Savings Bank, the Town of Monson, and Health New England took place.
Health New England representatives first welcomed challengers, followed by Monson Town Administrator, Jennifer Wolowicz, who threw down the challenge gauntlet to Dan Moriarty, President and CEO of Monson Savings Bank.
Team Monson Savings Bank and Team Town of Monson showed great spirit as they walked their kickoff lap around Gate, Cushman, Main, and State Streets, carrying rally signs and waving to neighbors in Monson.
Additionally, to coincide with the Bank's 150th Anniversary, Dan Moriarty announced an internal goal for the Bank's team members to collectively complete 150 miles per day. If Team Monson Savings Bank achieves this, then each Bank participant will receive a special prize.
"On behalf of the entire Monson Savings family, I would like to thank Health New England for organizing this challenge. We are always up for a good challenge!" said Dan Moriarty, President and CEO of Monson Savings Bank. "Better yet, this is a challenge that supports the wellbeing of our employees and community members. Supporting physical, mental, and spiritual wellbeing is always top priority for us here at the Bank. It is with great enthusiasm that we accept this challenge!"
With the help of Health New England, this fun competition was established between Monson Savings Bank and the Town of Monson to promote healthy living and wellness for the employees. At the conclusion of the competition both teams will be able to walk away healthier, but only one team will having bragging rights as the Step Up Fitness Challenge winner.
To make the victory even sweeter, Health New England has committed to donating $500 to the winning teams charity of choice. Monson Savings Bank has chosen the charity Educare of Springfield and the Town of Monson has chosen Shriners Children's Hospital of Springfield.
Back to Blog List