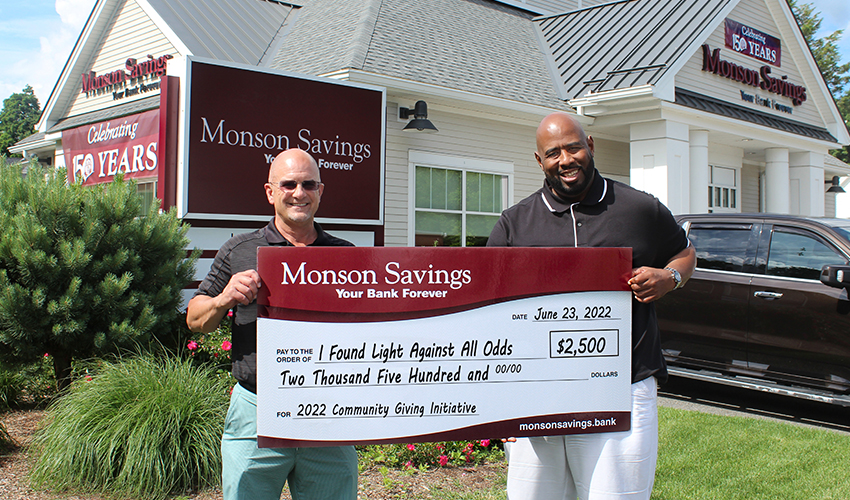 Monson Savings Bank Presents $2,500 Donation to Local Non-Profit, I Found Light Against All Odds
Monson Savings Bank recently donated $2,500 to local nonprofit, I Found Light Against All Odds (IFLAAO), as a part of their annual Community Giving Initiative. Dan Moriarty, Monson Savings Bank President and CEO, proudly presented the donation to Stefan Davis, President and CEO of I Found Light Against All Odds, at the Bank's East Longmeadow location.
The $2,500 donation was made after IFLAAO placed as a top ten vote recipient in the 2022 Monson Savings Bank Community Giving Initiative. The Bank's annual Community Giving Initiative gives the public an opportunity to submit votes for their favorite local non-profit organizations. After the votes are tallied, the Bank donates to the top ten organizations that received the most votes.
"I Found Light Against All Odds is a truly inspirational non-profit. The organization offers support and guidance to our local, at-risk youth. It is heartbreaking to hear that some of these young people have experienced hardships such as homelessness, abuse, and poverty," said Dan Moriarty, President and CEO. "Through IFLAAO, they are provided with a positive and relatable role model, Coach Stefan Davis, who gives them hope. They are given opportunities to share their story and be heard. I am grateful for this organization's commitment to our young community members and for the ongoing partnership between Monson Savings Bank and I Found Light Against All Odds."
I Found Light Against All Odds, provides resources and opportunities for local at-risk youth. One of the organization's core missions is to help end the cycle of disparity that these young people encounter. The youth that IFLAAO works with face many different obstacles, such as poverty, homelessness, abuse, and educational struggles. These struggles are often foreseen as barriers to becoming productive citizens in their community.
The organization facilitates opportunities for these young people to help them gain valuable and practical skills needed to pursue their future aspirations. IFLAAO has organized for community business owners, members of law enforcement, and persons who hold political positions to have group sessions with at-risk youth to allow them the opportunity to ask questions and gain deeper perspectives on possible career paths.
IFLAAO has also given young people the ability to have hands-on working experience in their areas of interest such as video and technology operation, the food and service industry, and working in the marketing and brand field for large businesses.
IFLAAO helps to advocate for the youth who feel they have no voice and ensure that they feel supported during their time of darkness. Learn more about I Found Light Against All Odds: ifoundlight.com.
"On behalf of I Found Light Against All Odds, I would like to say thank Monson Savings Bank for this generous donation. I would also like to thank everyone that voted for our organization, making it possible for us to receive this donation," said Stefan Davis, President and CEO of I Found Light Against All Odds. "Our organization takes great pride in the work that we do with the young people in our area and we are looking forward to putting this donation to good use!"
Back to Blog List