Where people save, communities benefit, and businesses prosper.
Monson Savings Bank is a community bank that has served local residents and businesses since 1872. We are proud to play an integral role in the communities we serve, contributing to the progress and success of the area. We have a deep connection and understanding of the local landscape which allows us to appreciate everything that makes it so great.
As a local, community bank, we are committed to providing our customers with personalized service and support. Monson Savings Bank has knowledgeable banking professionals who offer warm and friendly service in addition to a variety of high quality financial products and the latest in digital banking technology. We truly value the trust customers place in us with their banking relationship. This is why we continually strive to provide our customers with the best possible banking experience each and every day.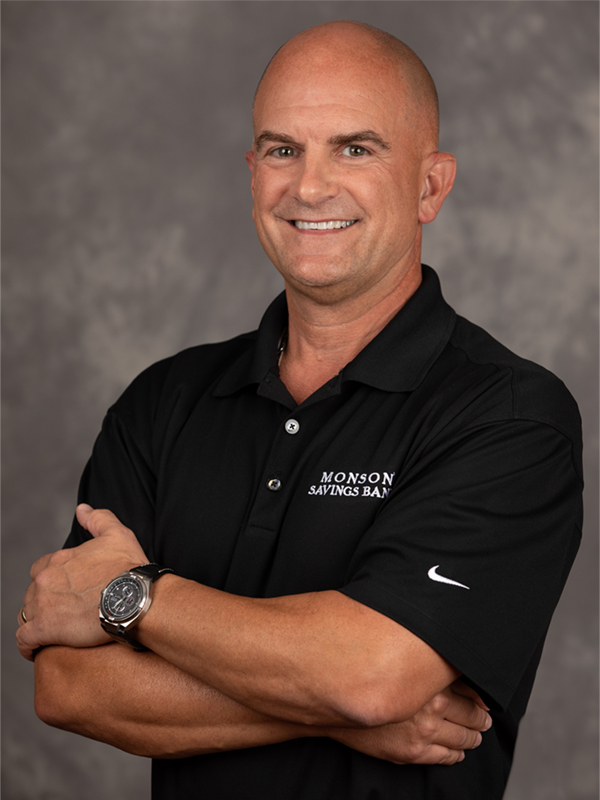 A Welcome from Our President & CEO
Welcome to Monson Savings Bank, where we help people save, businesses prosper, and communities benefit! Whether you are a current customer or just joining us, we are so happy that you have placed your trust in us as your local community bank. We are committed to providing our customers with quality personal and business banking products, cutting edge technology, amazing service, and we are dedicated to supporting our communities.
Why is Monson Savings your best choice as a local community bank? We can offer the best of all worlds!
We hope you'll take a moment and read what our customers have to say about us. Stop in any branch or call us at 413-267-4646 today. And, please feel free to e-mail me at [email protected]. I love to hear from customers and members of our community.
Sincerely,
Dan Moriarty
President and CEO
---
Our History
In 1872, the population of the Town of Monson was nearly 3,000. At that time Monson had one commercial bank, the Monson National Bank, located at the corner of Main and State Streets. The Monson National Bank had been chartered in 1854 as a state bank and reorganized in 1864 as a national bank.
A decade later, savings banks were being founded to give working men and women the opportunity to save. They were the first banks to welcome small deposits. Recognizing the need for such a bank in Monson, a group of business leaders in the community incorporated the Monson Savings Bank on March 27, 1872.
At the first meeting of this newly incorporated bank, Charles H. Merrick was elected its first President.
Beginning on June 1, 1872, and for 21 years thereafter, the business of the Monson Savings Bank was transacted at the Monson National Bank. Not only did the bank share the premises, it also shared the same till, vault, counter and personnel.
At the end of its first month of operation, the new Monson Savings Bank had $12,994.23 on deposit, and total real estate loans of $2,250. Cash on hand was $2,531.43.
On June 1, 1893, a new building, located on the site of our Main Office in Monson, was ready for occupancy. This building separated the savings and the commercial banks. The National Bank occupied one half of the ground floor and the Savings Bank the other. Office and apartment space had been constructed on the second floor and the third floor was devoted entirely to clubrooms for fraternal organizations.
As the bank grew, various changes were made in its physical appearance. In 1920 extensive interior renovations were made to the Main Office. In 1951, the front of the building was remodeled and in 1956 the third floor was removed. In 1964 the Main Office Building was completely remodeled for the utilization of the whole building by the Savings Bank.
In 1967, the Bank made the local newspapers when a vote by the Board of Trustees blocked the bank's merger with Ludlow Savings Bank and its President and many of the Board members resigned. Edward Kozikowski was elected to serve as the new President and the Bank continued to grow and prosper.
In 1985, the Main Office was again completely remodeled, and a second story was added back onto the building.
The Bank opened branches in Hampden in 1998, in Wilbraham in 2003, in Ware in 2013, and in East Longmeadow in 2020. In addition, a new Loan and Operations Center was also opened in Post Office Park in Wilbraham in 2020 which serves all of Springfield and its surrounding communities.
Today
Today we help people save, businesses prosper and communities benefit with world class products and technology, the sincere and considerate service our customers deserve, and absolute dedication to our communities.