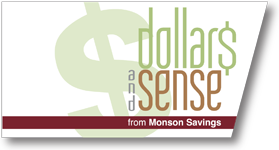 At Monson Savings Bank, we have become increasingly concerned about financial literacy and the fact that many people lack the money management knowledge and skills they need to ensure long-term stability for themselves. That's why we developed "Dollars & Sense from Monson Savings." This initiative includes teaching financial literacy in classrooms, complimentary community workshops on important financial topics, our products and services for kids, teens and college students, and our financial advisory services.
Dollars & Sense in the Classroom
Monson Savings Bank employees are teaching a robust financial education curriculum to 5th and 6th graders in several communities.
Complimentary Workshops
Every year, we offer complimentary workshops with expert speakers on important financial topics. Past topics have included estate planning, long term care, trusts and other estate planning tools for individuals with special needs, economic trends and outlook, succession planning for businesses, identity theft, and information for first time homebuyers.
Financial Advisory Services
We were one of the first community banks in our area to offer access to Financial Advisory Services to help people grow their money, get retirement income from their savings, save for college, and protect their families. We offer these Financial Advisory Services through Infinex Financial Group.1