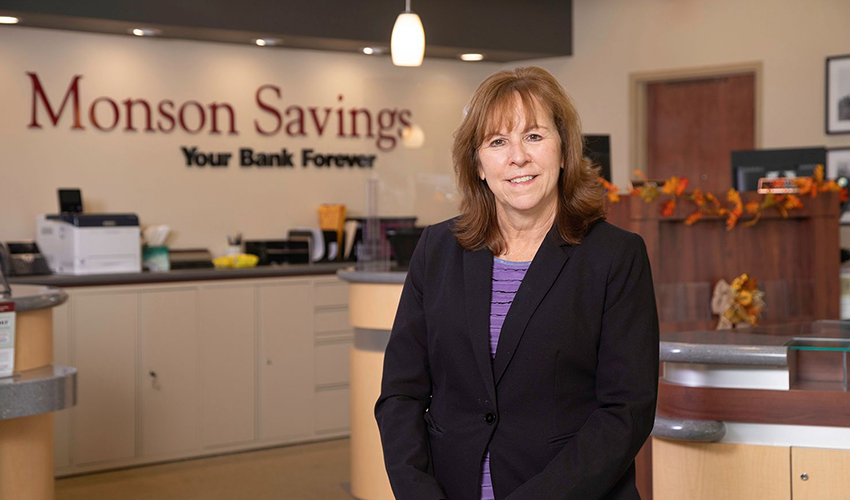 MSB Employee Spotlight: Charlene Kareta
Mortgage Loan Originator
If you don't know already, we have amazing employees at Monson Savings Bank and we want you get to know them. The MSB Employee Spotlight is an ongoing series highlighting the achievements, hard work, fun details and individual traits that make Monson Savings Bank employees so great!
Here is what Charlene had to share about her life and experiences.
I am a banker, a family and community advocate, a volunteer, a golfer and a good listener.
What is your role at Monson Savings Bank and how do you help your customers?
My role as Mortgage Loan Originator is to help guide our customers through the home financing process. I make sure to understand what goals they are trying to accomplish, I answer any questions they may have and I help to fit them with the mortgage products that will best suit them. I also provide them with personalized attention and support throughout the process so they feel confident and well taken care of.
What do you like most about your position?
As a Mortgage Loan Originator, I am the first person customers reach out to for a home loan. I love meeting people and sharing mortgage options that will fit their situation. I get great satisfaction building lasting relationships with my customers, listening to their home financing goals and helping them to reach them. It is a great feeling at the end of the day to know I have helped someone.
How long have you been with Monson Savings Bank?
I have been with Monson Savings for 6 years but have been in banking for over 30 years.
What do you like about Monson Savings Bank?
I love that Monson Savings Bank is a community bank committed to serving our customers, supporting our communities, and inspiring our team of employees. I grew up in a large family and Monson Savings reminds me of the happiness of family. We are all happy to be here and work hard to contribute to the bank's success. Working efficiently as a team allows us to provide timely and enhanced service because of the expertise each person brings to the bank.
How do you feel connected to the local communities?
Monson Savings Bank is committed to being involved in the community and when I get the opportunity to volunteer I love being out in the community and meeting our customers, neighbors, and helping however I can.
How do you feel at the end of the day after helping customers?
Every customer has different goals and needs different options. Home financing can be an overwhelming process but can also bring so much benefit. I feel great knowing that I made a small difference in helping customers through the home loan process. It's incredibly rewarding.
What are your roots?
I was born in Westfield, MA and currently reside in Southampton, MA.
Tell us about your family or friends and what they mean to you.
Despite the size and distance of my family, we're all very close. Technology has allowed us to stay connected even during this pandemic. My husband and I have three grown children and 3 grandchildren. We're all excited for the fourth grandchild arriving in the spring. We have many nieces and nephews. Twice a year our family unites—July and December - and it's always a great time. I grew up in a family of 5 sisters, in a one bathroom house, and we learned to be patient and kind with one another. I love my family more than anything.
What values are most important to you to uphold?
Honesty, reliability and dependability.
What are your hobbies?
I like exercising, cooking, gardening and hiking. I like listening to music and taking motorcycle rides.
Favorite music?
I like David Gray and the Marshall Tucker Band. I enjoy listening to new country, rock music, and all genres really!
Favorite meal?
Chicken Gorgonzola
Can you play any instruments?
Flute, but I have not played in a long time and would not want to be asked to play!
Do you volunteer anywhere?
I've recently been named 2021 Chairperson of the Scholarship committee for the Realtor Association Pioneer Valley. This will involve raising funds for college scholarships to be awarded to graduating high school students. I have been also been involved with the Food Bank of Western Massachusetts.
Back to Blog List