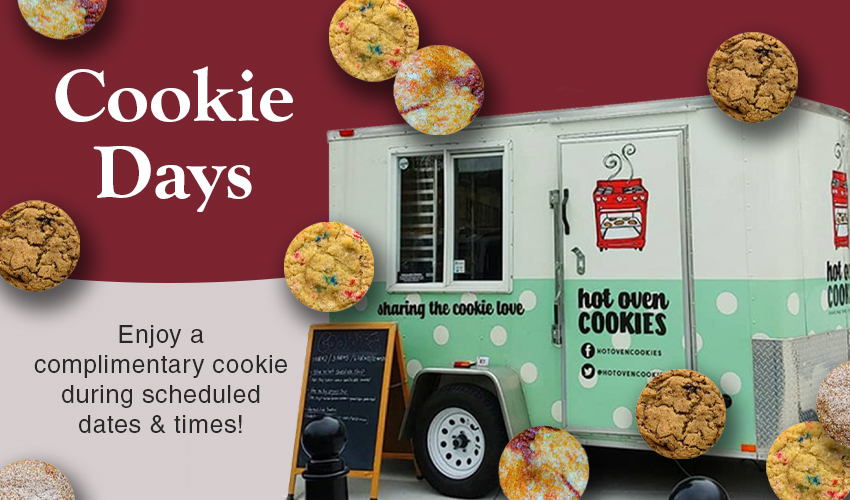 Monson Savings Bank Celebrates Hispanic Heritage Month with October Visits from the Hot Oven Cookie Cart
Monson Savings Bank has connected with Springfield based and Latina owned business, Hot Oven Cookies, LLC, to thank its customers and local communities for their continued support. To celebrate during the final week of Hispanic Heritage Month and its Customer Appreciation Week, the Bank will "share the cookie love" by hosting the Cookie Cart during scheduled locations and times from October 12th through October 14th.
"Hot Oven Cookie is the perfect local business for Monson Savings Bank to partner with for our Customer Appreciation Days this October," said Dan Moriarty, President and CEO of Monson Savings Bank. "Sheila has crafted delicious recipes, some that highlight Hispanic and Latino culture. Since September 15th through October 15th is Hispanic Heritage Month, it is a wonderful time to unite and celebrate the occasion with our customers and community we serve."
The Hot Oven Cookies Cookie Cart will be on site at Monson Savings Bank branches during the following dates and times:
Tuesday, October 12th
11am – 1pm: Monson Branch, 146 Main Street
2pm – 4pm: Wilbraham Branch, 100 Post Office Park
Wednesday, October 13th
12pm – 2pm: Ware Branch, 136 West Street
Thursday, October 14th
11am – 1pm: Hampden Branch, 15 Somers Road
2pm - 4pm: East Longmeadow Branch, 61 North Main Street
Hot Oven Cookie flavors that will be available: Mexican Hot Chocolate Brookie, Dark Chocolate and Sea Salt Chip, Guava Cheesecake, Just PB, and Nutella Churro, while supplies last.
Hot Oven Cookies, LLC is a local business specializing in high quality, homemade cookies - with two quaint cookie shops at 1512 Allen Street and 1365 Main Street in Springfield, MA. Additionally, with the retro modern Cookie Cart and a passion for cookies, founder and chief baker, Sheila Coon, was able to fulfill her mission to "Share the Cookie Love" curbside to curbside throughout local neighborhoods. Hot Oven Cookie offers catering, online shopping options, including gift cards and merch, and even "take+bake" cookie dough. Hot Oven Cookies has many creative flavors that are always on the menu, as well as "the weeklies," which are announced each Sunday. Sheila also creates cookies recipes infused with her Puerto Rican culture. You can follow Hot Oven Cookies on Instagram, Twitter, and Facebook and learn more about them at https://www.hotovencookies.com/.
Additionally, locally made apple cider and cider donuts will be available all week long, at all branches, from October 12th through the 16th.
Back to Blog List