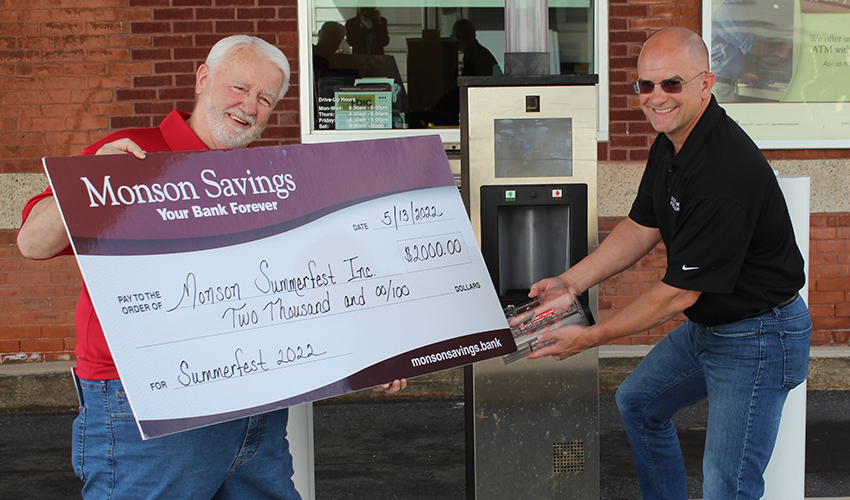 Monson Savings Bank Announces $2,000 Sponsorship of 2022 Monson Summerfest
Monson Savings continually demonstrate its generous support for the local communities that it serves. This includes supporting local events that uplift residents and enrich community unity. Recently, 150 year old Monson Savings Bank announced that it will be a $2,000 Sponsor for the 2022 Monson Summerfest festivities.
Just like the Monson Summerfest, Monson Savings Bank is woven into the fabric of the town of Monson. With the community bank's first branch being erected in the Town of Monson in 1872, Monson Savings has been a part of the town for 150 years.
"Monson Savings Bank is, and always has been, a community-focused bank. We are proud to support local traditions, like Monson Summerfest," said Dan Moriarty, President and CEO of Monson Savings Bank. "I grew up in Monson, so Summerfest is near and dear to my heart. I have been attending Summerfest since I was a child. My wife and I raised our family here, so our children grew up enjoying this summer tradition as well."
Monson Summerfest is a summertime festival that has been an annual tradition in the Town of Monson since 1979. At Summerfest, 10,000+ celebrate summer together beginning with one of the best fireworks show around on June 25th and then more fun on Independence Day with a parade, vendor booths, bands, rides, and activities.
In fact, Monson Savings Bank has been working hard to design and assemble a special parade float for the Bank's 150th Anniversary. Bank volunteers will greet parade goers and share candy with those watching. The Summerfest parade will begin at 10 o'clock on Main Street. Festivities will continue throughout the day at Veteran's Field.
To learn more about Monson Summerfest visit http://www.monsonsummerfestinc.com/
To learn more about Monson Savings Bank's commitment to local communities visit https://www.monsonsavings.bank/connect/our-community/our-community-commitment.html
Back to Blog List