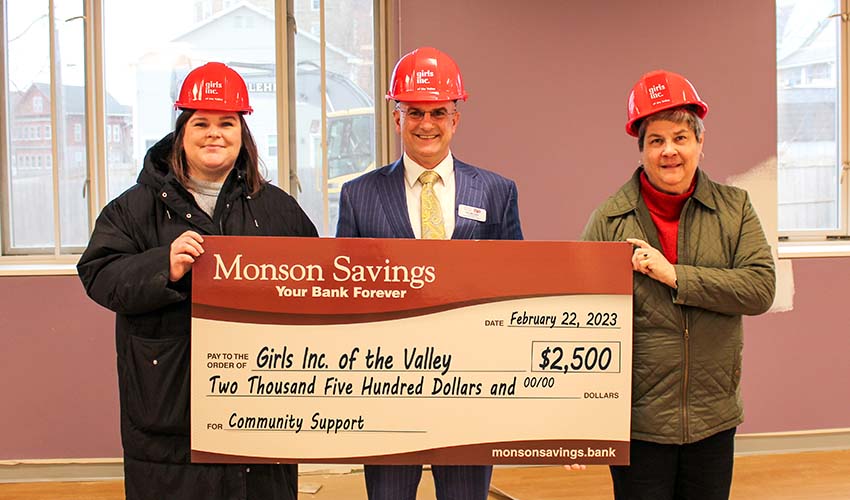 Monson Savings Bank Presents $2,500 Donation to Girls Inc. of the Valley
Monson Savings Bank recently donated $2,500 to Girls Inc. of the Valley in support of their fundraising event, Spirit of Girls.. L to R: Jessica Colson, Girls Inc. of the Valley Director of Development & Communications; Dan Moriarty, Monson Savings Bank President & CEO; and Ruth Roy, Girls Inc. of the Valley Campaign Director
Monson Savings Bank is a local community bank that is dedicated to empowering individuals to reach their highest potential. To further that commitment, the Bank recently donated $2,500 to Girls Inc. of the Valley in support of their fundraising event, Spirit of Girls.
"We are very appreciative of this donation from Monson Savings Bank," said Suzanne Parker, Girls Inc. of the Valley Executive Director. "This donation will help us to execute our Sprit of Girls event set to take place this April. This annual fundraising event aims to raise money to provide students living in Holyoke, Springfield, Chicopee, and the surrounding areas with essential summer programming at no cost to their families. On behalf of Girls Inc. of the Valley, I would like to extend a sincere thank you to all our partners, including Monson Savings, who help us support the Valley's youth."
Dan Moriarty, Monson Savings Bank President and CEO, was thrilled to visit the construction site for the new Girls Inc. of the Valley program center and headquarters in Holyoke. While touring the facility, he took the opportunity to present the donation to members of the Girls Inc. of the Valley team.
"Monson Savings Bank supports Girls Inc. and their mission to inspire girls to live up to their full potential," said Dan Moriarty. "This is a great community partnership, and we are pleased to donate to Girls Inc. of the Valley so that they can continue to provide students in the Valley with valuable services and resources."
Girls Inc. of the Valley is a Holyoke based non-profit. The organization serves youth ages 5 to 18 who reside in Holyoke, Springfield, Chicopee, Westfield, South Hadley, and beyond. They offer after school and summer programs, at no cost to families. Girls Inc. offers students a pro-girl environment based on mutual respect with opportunities for leadership. Their research-based programs guided by highly trained staff support students in navigating their path to independent adulthood.
To learn more about Girls Inc. of the Valley, please visit: www.girlsincvalley.org
To learn more about Monson Savings Bank, please visit: www.monsonsavings.bank
Back to Blog List