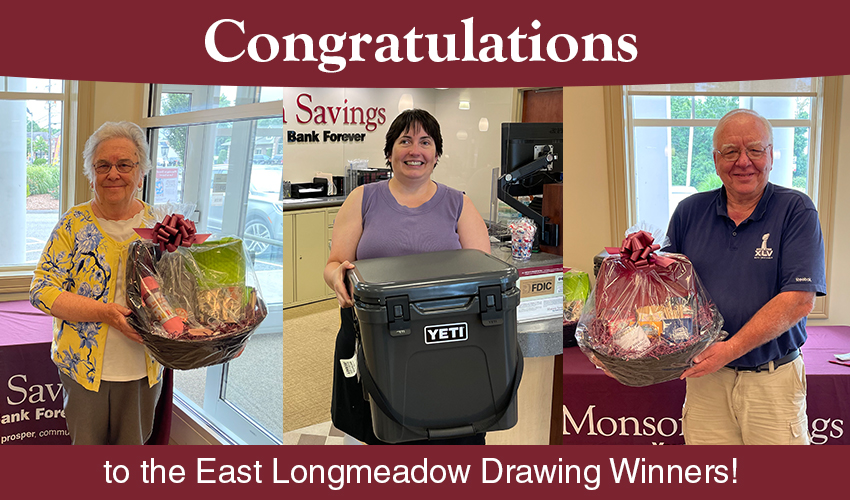 Monson Savings Bank Announces the Lucky Winners of their East Longmeadow Drawing Prizes
Barbara Farrell is photographed with the My Main Squeeze gift basket she won; Christina Beeke was pleasantly surprised to win the YETI Roadie® 24 Hard Cooler; and Marc Leonard was happy to claim his Shelburne Falls Coffee Roasters drawing basket.
Monson Savings Bank is pleased to announce the winners of their recent East Longmeadow 1st Anniversary drawing prizes. The prizes were purchased by Monson Savings Bank from area businesses to show support to the East Longmeadow business community. Additionally, a highly coveted YETI Roadie® 24 Hard Cooler was also a drawing prize attendees had a chance to win. Each attendee was given five drawing tickets and could enter them to win the drawing of their choice.
Congratulations to the Monson Savings Bank drawing winners!
Ruth Rice was the first lucky drawing winner. Rice won the TRE Olive gift box containing: Olive Tapenade, Bruschetta Calabrese, Pesto Genovese, Chili Pepper Spread, and olive oil. TRE Olive is located at 180 Shaker Road in East Longmeadow. TRE Olive sells olive oil, spreads, soaps, and more.
Barbara Farrell was the lucky winner of My Main Squeeze gift basket. A local favorite, My Main Squeeze is located at 165 Shaker Road in East Longmeadow and is best known for their delicious smoothies. Their menu offerings also include: wellness shots, coffee, juices, and more. The basket contained a $50 gift certificate, a beanie, and a koozie, all from My Main Squeeze. As well as a portable blender, a lunch box, and Monson Savings Bank items.
Marc Leonard was very surprised when he found out that he won the Shelburne Coffee Roasters gift basket containing a $25 Shelburne Falls' gift certificate, two coffee mugs, coffee beans, and Monson Savings Bank goodies. Shelburne Coffee Roasters is located at 60 Shaker Road in East Longmeadow and serves their customers hand roasted coffee, fresh pastries, breakfast sandwiches, and more. The Bank served Shelburne Coffee Roaster's delicious pastries and coffee at the celebration.
Christina Beeke was thrilled when she found out she was the winner of a sleek, charcoal YETI Roadie® 24 Hard Cooler. She expressed how much she was really hoping to win the YETI Cool and that she was looking forward to putting it to good use.
"We are happy to support the amazing local businesses in the Town of East Longmeadow," said Dan Moriarty, Monson Savings Bank President and CEO. "Congratulations to the winners of the drawings and thank you for helping us to celebrate our East Longmeadow Branch."
To learn more, contact Monson Saving Bank by calling (413) 267-4646 or visiting monsonsavings.bank
Back to Blog List