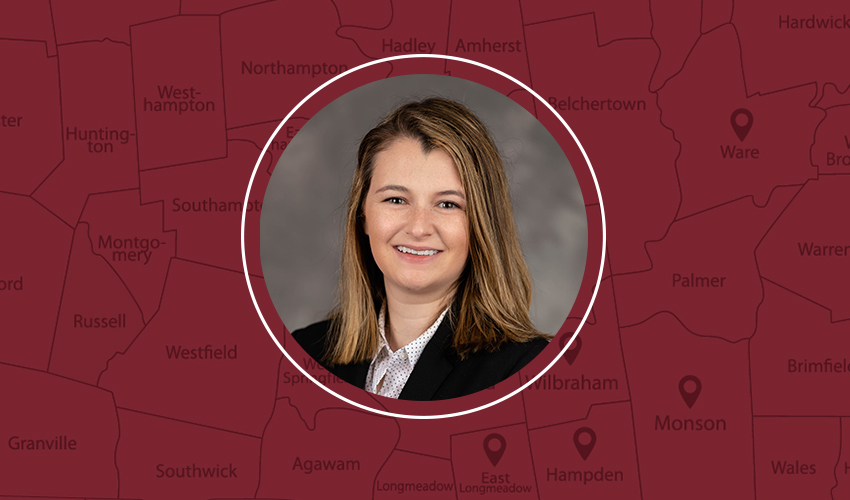 Monson Savings Bank Announces the Promotion of Aimee E. Kohn to Business Relationship Manager
Monson Savings Bank is happy to announce the recent promotion of Aimee E. Kohn to Business Relationship Manager. She joins the Bank's Business Development team at the Loan & Operations Center, located at 75 Post Office Park in Wilbraham. She will also travel to customers to assist with their business banking needs.
"Since joining the Monson Savings team, Aimee has demonstrated that she is truly a team player. She is a knowledgeable colleague who is always more than happy to help others succeed," said Dan Moriarty, President and CEO of Monson Savings Bank. "Aimee has provided exemplary customer service to our customers. This is something that I know she will continue to do in her new position. We have enjoyed watching Aimee grow with the Bank and we are looking forward to her continued growth with us."
Aimee E. Kohn is a resident of Wilbraham. She resides with her husband, their two daughters, and their beloved dogs. In her new role as Business Relationship Manager, Kohn will be responsible for assisting current and future Monson Savings Bank business customers with their banking needs. Along with the other members of the Business Development Department, Kohn will be assisting in making business banking more manageable for business owners. From her years of experience working with business owners in her retail banking positions, Kohn knows that owning a business is a demanding, and sometimes, hectic job. She will make the job of running a business a little bit easier by offering various business banking solutions and convenient service options.
Kohn began her career in banking with Monson Savings Bank 7 years ago. She started as a part time Customer Service Associate at the Bank's Monson Branch. She quickly proved herself to be a valuable asset to the Bank. Her commitment to providing exceptional customer service and her dedication to her team has led her to flourish in the Retail Banking Department. She was promoted to full time Customer Service Associate before becoming a CSA Supervisor, then Kohn was promoted to Assistant Branch Manager of the Wilbraham Branch, and most recently served as the Branch Manager of Monson Savings Bank's newest branch in East Longmeadow.
Throughout her career with Monson Savings, Kohn has gone the extra mile to contribute to the overall success of the Bank. She has been a member of various internal committees, including: the East Longmeadow Branch Opening Committee, the East Longmeadow Branch Strategy Committee, and the Pandemic Re-Opening Preparedness Committee. Additionally, Kohn has trained and aided many members of her team, helping them to grow in their positions and develop their skillset to achieve success.
Furthermore, Kohn holds a Bachelor's Degree in English Literature with a minor in Psychology from Roger Williams University.
"I am so thrilled to continue my journey with Monson Savings Bank and join the Business Development Department," said Aimee Kohn, Business Relationship Manager. "During my career in retail banking, one of my favorite job responsibilities has been assisting our business customers because I am given the opportunity to learn about their businesses and to build relationships. In my new position, I will be able to work more closely with business customers. I am very excited for the new experiences my position will offer me and to help our business customers succeed."
To contact Aimee E. Kohn for your business banking needs, she can be called at (413) 893-0174 or emailed at [email protected].
To learn more about Monson Savings Bank, visit www.monsonsavings.bank
Back to Blog List