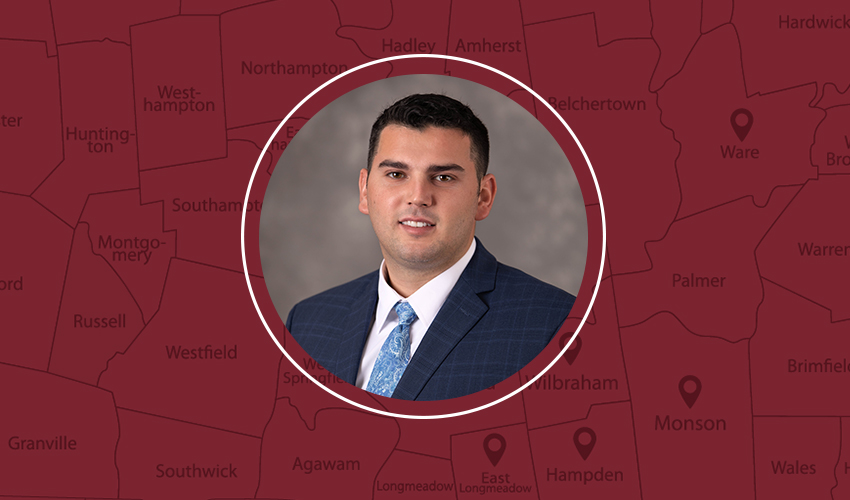 Monson Savings Bank Names Bryce A. Peritz Junior Mortgage Loan Originator
Monson Savings Bank is pleased to announce the recent hire of Bryce A. Peritz as Junior Mortgage Loan Originator. He will be based out of the Monson Savings Bank Loan & Operations Center, located at 75 Post Office Park in Wilbraham.
"Bryce is a welcomed addition to Monson Savings Bank," said Dan Moriarty, Monson Savings Bank President and CEO. "As a local himself, he knows the area well, and is eager to help serve our customers. I have no doubt that he will be successful and provide our customers with lending solutions to help them reach their home financing goals."
Bryce A. Peritz is a resident of Palmer, living with his girlfriend and their beloved dog. Peritz is a Western Massachusetts native with strong ties to the local communities. He volunteers his time to help enhance the local areas, most notably working with non-profit, Re-Green Springfield, which aims to plant more trees in the Springfield area. Additionally, he supports local charity hockey games throughout Massachusetts by volunteering as a referee.
Peritz is a recent graduate of Suffolk University. He graduated in the summer of 2020 with a Bachelor's Degree of Science in Business Marketing.
Prior to joining the Monson Savings Bank team, he worked with PeopleBank as a Banking Center Specialist. While in this position, Peritz was exposed to the many facets of the industry and quickly developed a passion to continue his career in the financial sector.
As a Junior Mortgage Loan Originator, Peritz will be under the direction of Senior Mortgage Loan Originators of Monson Savings Bank's top notch Residential Lending team. He will be responsible for supporting loan processing, aiding in mortgage closings, and providing residential loan customers with superior customer service throughout the home financing process.
"It has always been a dream of mine to be a lender, as my father is also a Loan Originator. I grew up watching him and aspired to work in the same field. My father has given me the greatest gift anyone could ever give another person: he's always believed in me," said Bryce Peritz, Monson Savings Bank Junior Mortgage Loan Originator. "I am thrilled to be joining the Residential Lending Team at Monson Savings. I am excited to start this journey and be a valuable asset to the Bank and our customers."
To contact Bryce A. Peritz (NMLS # 2190156) for your residential lending needs, he can be reached by phone at (413) 267-1223 or by email at [email protected].
To learn more about Monson Savings Bank, visit www.monsonsavings.bank
Back to Blog List