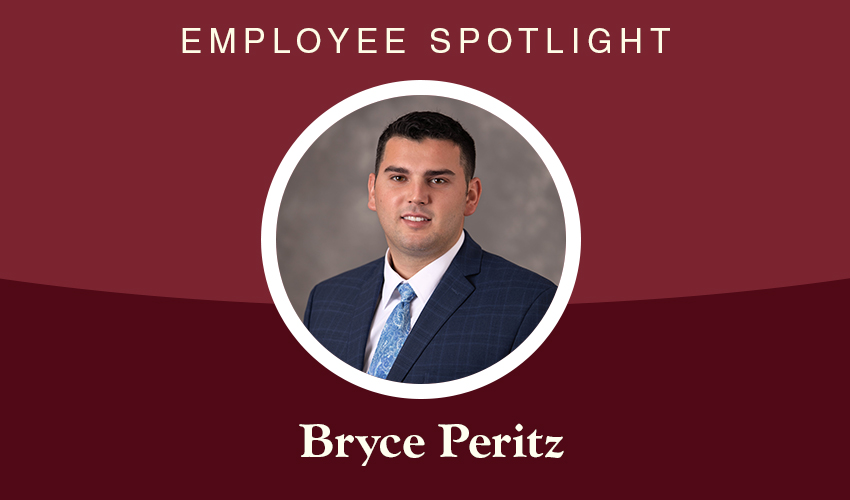 MSB Employee Spotlight: Bryce Peritz
Junior Mortgage Loan Originator, NMLS # 2190156
If you don't know already, we have amazing employees at Monson Savings Bank and we want you get to know them. The MSB Employee Spotlight is an ongoing series highlighting the achievements, hard work, fun details and individual traits that make Monson Savings Bank employees so great!
I am a banker, a brother, a son, a volunteer, a caring person, and a good listener.
What is your role at Monson Savings Bank and how do you help your customers?

I am a Jr. Loan Originator here at MSB. I assist customers through the home buying and refinance processes. I help them by being knowledgeable, dependable, and reliable.
What do you like most about your position?
There are two things I like most about my position. The first is the joy I get out of making the customer happy. The second is that there is always something new to learn. There is something new around every corner. It keeps me on my toes and always learning.
How long have you been with Monson Savings Bank?
I am relatively new to the Bank, I joined the team about four months ago.
What are the top things you love about MSB?
What I love about MSB is that we put the customer's best interest at heart. The customer comes first. Also, since I am new here, I loved that everyone welcomed me in with open arms.
What are your roots?
I was born and raised in Palmer. I recently moved to East Longmeadow at the end of December.
Tell us about your family or friends and what they mean to you.
Family and friends are what makes you who you are. I am very fortunate to have a family and friends that have instilled great values in me.
What values are most important to you to uphold?
Integrity, dependability, Joyfulness, and empathy
What are your hobbies?
Traveling, going to the beach, cooking, and finding great Italian restaurants
Favorite music?
There is nothing like sitting on the beach listening to country music, but I am open to almost every genre.
Favorite meal?
Any type of pasta
Can you play any instruments?
Never been an instrument guy, but I do love to sing
Do you volunteer anywhere?
Charity hockey games throughout Massachusetts
Re- Green Springfield
Back to Blog List