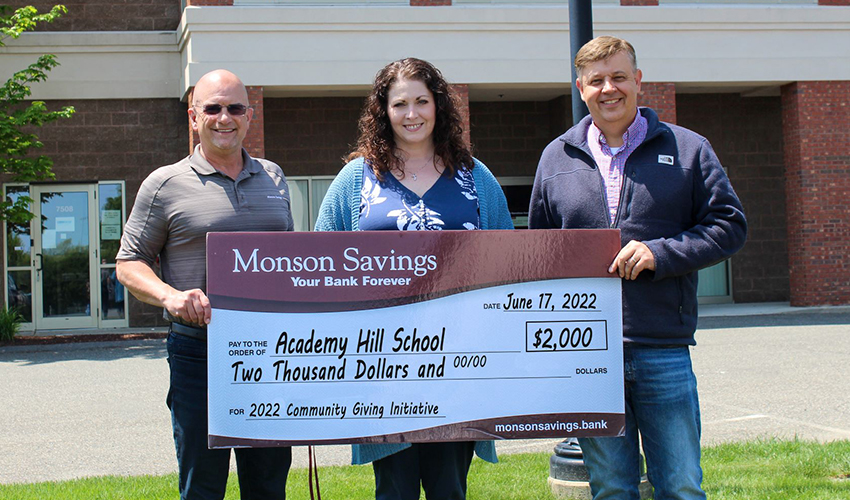 Monson Savings Bank Presents $2,000 to Academy Hill School
As a part of the Bank's 2022 Community Giving Initiative, Monson Savings Bank recently donated $2,000 to the Academy Hill School in Springfield. As in past years, the public was given the opportunity to cast their votes for the non-profit organizations that they wanted to see Monson Savings Bank support in 2022. This year Academy Hill School ranked as one of the top vote recipients.
Dan Moriarty, President and CEO of Monson Savings Bank, met with Academy Hill School's Head of School, Melissa Earls, and Director of Finance, Christopher Zaluga, at the Bank's Loan and Operations Center in Wilbraham where Dan presented the $2,000 donation on the Bank's behalf.
"Monson Savings is always thrilled to support the educational needs of our local students, whether it be through donations to youth programs, providing scholarships to high school seniors, or our free financial literacy programs," said Dan Moriarty, Monson Savings Bank President and CEO. "We are proud to provide this donation to Academy Hill School in support of their mission."
Founded in 1986, Academy Hill is an independent, coeducational, private elementary and middle school located in in Springfield, MA. The school offers students an intellectual, nurturing, and enriching foundation in a welcoming environment. The school's mission is to develop the visionaries, leaders, and innovators of the future. Academy Hill boosts the educational experience for students through rigorous, engaging, personalized curricular and co-curricular programs. Teachers harness the talents and gifts each child exhibits and guides them to new and creative ways to access knowledge, interpret content, and develop and present ideas. Learn more: https://www.academyhill.org/
"The Academy Hill community is thankful to Monson Savings for this generous donation and to the public for voting for us to receive this donation," said Melissa Earls, Academy Hill Head of School. "This donation will help us purchase the health and safety equipment that became necessary for us to have during the COVID-19 pandemic to keep our students safe on campus. Thank you, Monson Savings, for your continued dedication to supporting our students and our communities!"
Back to Blog List