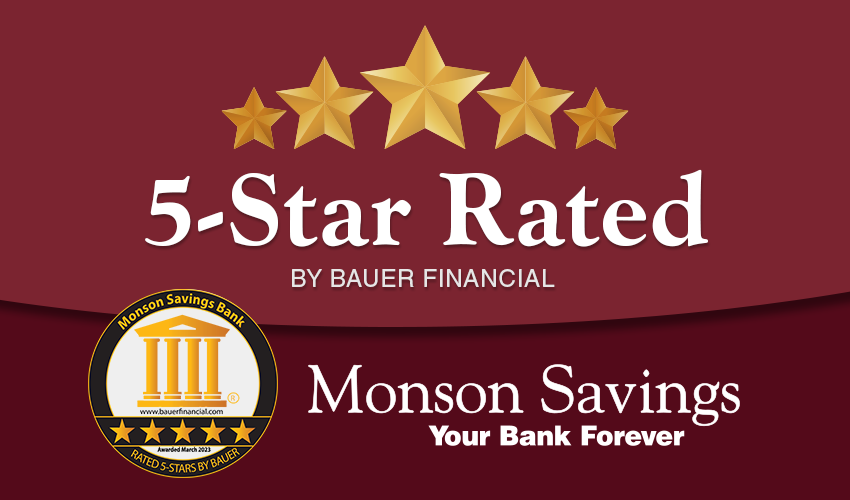 Monson Savings Bank Receives Superior 5-Star Rating for Financial Strength & Stability
Like Having a Friend in the Banking Business
BauerFinancial, Inc., the Nation's Premier Bank Rating Firm, is proud to announce that Monson Savings Bank has once again earned its Top (5-Star) Rating for financial strength and stability. Having earned Bauer's 5-Star rating for 40 (or more) consecutive quarters, Monson Savings Bank has earned an even higher designation as an "Exceptional Performance Bank". This marks Monson Savings Bank's 53rd consecutive 5-Star rating.
Bauer rates every federally-insured U.S. chartered bank with the same strict standards, and is pleased to report that Monson Savings Bank continues to outperform its peers. What does it mean when we say, "like having a friend in the banking business?", muses Karen Dorway, president of BauerFinancial. "It means loyalty and dedication. It's a connection, one that you can rarely find in a big bank. But at Monson Savings Bank, it comes naturally. Not to mention", she continues, "a local bank means local decisions, made by people just like you."
Dan Moriarty, President & CEO of Monson Savings Bank, when receiving the news of the 5-Star rating responded, "As a local, community bank serving the financial needs of our area for over 150 years, all of us at Monson Savings Bank are incredibly proud of this 5-star rating that recognizes our consistent performance in financial strength and stability. We work hard to remain well-capitalized and financially sound to ensure we are providing our customers and communities with the support that only a community bank can provide."
Established in 1872, Monson Savings Bank has been a dedicated banking partner for the community for 151 years. Making connections and supporting this community has been its hallmark since its inception. Being rated 5-Stars by Bauer, the best, most trusted and most convenient place to go for a validated, statistical review of your bank's financial strength, is the fruit of its labor.
Back to Blog List