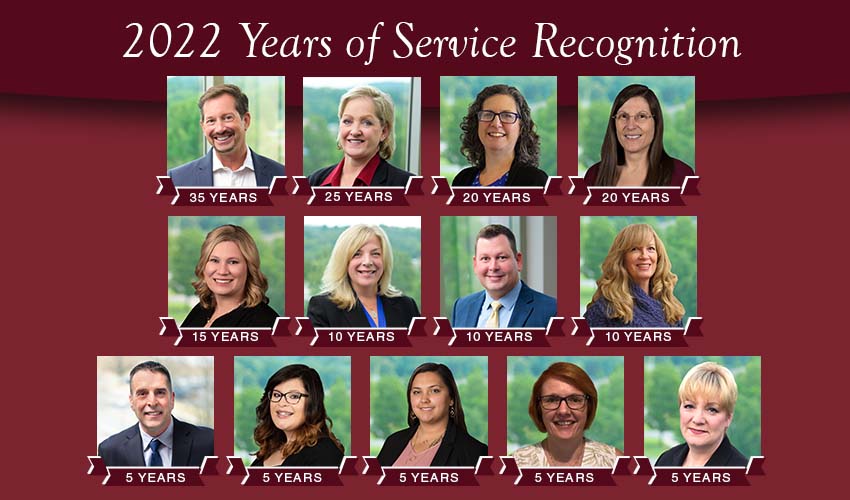 Monson Savings Bank Recognizes Employees for Years of Service
Monson Savings Bank places an exceptionally high importance on appreciating every employee, understanding that they each contribute to and are a vital part of the continued success of the 150-year-old community Bank.
Monson Savings is recognizing their employees who have achieved years of service milestones. The employees receiving recognition during 2022 range from 5 to 35 years of service at the Bank. Together, they share an impressive 175 years of loyal employment at Monson Savings Bank.
The following Monson Savings Bank employees are recognized for their special anniversaries this year:
35 Years of Service
Michael Rouette, Executive Vice President and Chief Operating Officer, has been with Monson Savings Bank for 35 years, holding with various roles with increasing responsibilities throughout his tenure. Rouette began his career with Monson Savings in 1987 as a teller and became a Loan Officer in 1989. He then earned the title of Assistant Vice President, Loan Officer in 1992 and went on to be Vice President, Loan Officer in 1996. In 2011 he earned the title Senior Vice President, Loan Officer and in 2016 Rouette had held the title of Senior Vice President and Chief Loan Officer, prior to becoming Executive Vice President and Chief Operating Officer. Rouette has a long history with the local community and with Monson Savings Bank, which has been filled with several major successes. He truly understands every single aspect of community banking. His innovative thinking, commitment to his customers, and his leadership skills have been and will continue to be instrumental to the success of the Bank.
25 Years of Service
Nancy Dahlen, Senior Vice President, Residential & Consumer Lending, is an esteemed leader at Monson Savings Bank and in her community. Dahlen is a seasoned banker with 40years of experience in the local banking industry. She is well versed in regulatory compliance, strategic planning, vendor and project management, residential loans, construction loans, and home equity loans. Throughout her tenure as a banker, she has received several educational accreditations from the following: New England School of Financial Studies, Center for Financial Training, American Institute of Banking, and Holyoke Community College. Furthermore, like Monson Savings, Dahlen is invested in the local communities. As a longtime resident of Monson, she cares deeply for the town as well as the surrounding community.
20 Years of Service
Jamie Blaxland, Account Manager, is primarily responsible for managing the Accounting Department which oversees the Bank's accounts payable, Automated Clearing House (ACH), investment bookkeeping, wires, general ledger reconciliations, and more. Like Monson Savings, Blaxland values the local communities. As a longtime Monson resident and a former employee of the Monson Public Schools, she feels a deep connection to the town where the Bank was incorporated more than 150 years ago. Additionally, Blaxland gives back to the community by being an active member in her church.
Janice Pirog, Hampden Assistant Branch Manager, is a dedicated member of the Monson Savings Bank team. During her time with the Bank, Pirog has assisted numerous customers and non-customers with their banking needs. She has been known to provide exceptional customer service. Pirog is a leader to the Hampden team and a vital part of the of the entire Monson Savings team. Furthermore, Pirog is invested in the local community she serves. One of the ways she gives back is by volunteering to read to elementary school children.
15 Years of Service
Heather Arbour, Assistant Vice President, BSA/Fraud Officer & Compliance Manager, has continually proven herself to be a hard-working member of the Monson Savings team. In her role as AVP BSA/Fraud Officer and Compliance Manager she is responsible for overseeing the Bank's Bank Secrecy Act, anti-money laundering programs, and ensuring compliance with banking regulations. Additionally, she manages the Retail Operations Department. Arbour has demonstrated her skills as a professional and as a leader during her time with Monson Savings. Outside of her role at Monson Savings, one of her most recent accomplishments is graduating from the American Woman's College with her bachelor's degree.
10 Years of Service
Dina Merwin, Senior Vice President, Chief Risk & Senior Compliance Officer, is a respected leader, colleague, and local community member. With 30 years of experience in community banking, Merwin brings a wealth of knowledge and expertise to Monson Savings. In her current role, Merwin is responsible for coordinating all regulatory changes throughout the Bank, improving processes that enhance efficiency and compliance, as well as ensuring adherence to all rules and regulations. She is a valuable asset to the Bank, as well as a resource to her colleagues.
Rob Chateauneuf, Senior Vice President, Senior Commercial Loan Officer, has over 20 years of banking experience, which has included working in commercial lending, residential lending, and retail branch management. Chateauneuf's extensive banking experience means he possess a unique and comprehensive understanding of the needs and challenges of commercial businesses. He has a reputation for going the extra mile for the business customers he works with to help them succeed.
Virginia Viens, Human Resources Generalist, is responsible for assisting with recruiting, interviewing, and hiring new staff. Additionally, she is responsible for administering payroll, insurance benefits, and other human resources services for Monson Savings Bank employees. Everyone at the Bank is extremely grateful for Viens' kindness and guidance.
5 Years of Service
Adriano Dos Santos, Hampden Branch Manager, is a dedicated and valuable member of the Monson Savings Bank team. Dos Santos delivers excellent, personalized service to the Bank's customers, helping them with their everyday banking needs. Moreover, he simultaneously manages the daily operations of Hampden Branch and the branch's staff. Outside of his career, Dos Santos is very passionate about being involved in the local communities and spending time with his children.
Amber Messer, Ware Assistant Branch Manager, plays an integral role in the operation of the Bank's Ware location. She supports her team, while providing exceptional service to customers. Messer is also dedicated to serving the Ware community, volunteering her time in the local area whenever she is available to.
Ashley Dones-Schipper, East Longmeadow Assistant Branch Manager, provides her co-workers and customers with superior service and support every day. She has proven herself to be a helpful resource for her teammates and customers by being a diligent listener and providing helpful solutions.
Denise Motyka, Customer Service Associate at the Ware Branch, is a committed member of Monson Savings Bank. During her time with the Bank, Motyka has helped countless people with their banking needs. She provides the highest quality service and support to the Bank's customers. She is known for going above and beyond to ensure all customers' experiences are positive.
Kammy Niccum, Customer Service Associate at the Hampden Branch, helps customers explore convenient banking services. She also helps them by performing banking transactions and answering any questions they may have. She is very much appreciated by both her customers and her colleagues.
"All Monson Savings Bank employees are valued members of our exceptional team. We are particularly grateful for our team members who have shown their dedication and loyalty to the Bank with their continued service," said Dan Moriarty, President and CEO of Monson Savings Bank. "I congratulate the employees celebrating a milestone this year. We are thankful to them for their commitment, not only to the Bank, but also to the communities, businesses, and customers that we serve."
Back to Blog List