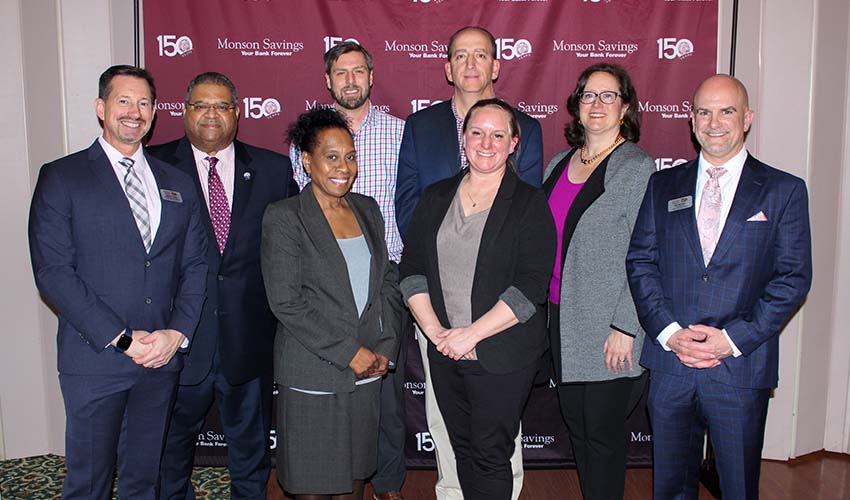 Monson Savings Bank Announces the Election of New Corporators
Left to right: Monson Savings Bank Executive Vice President and Chief Operating Officer, Michael Rouette; Monson Savings Bank's newly elected Corporators: John Perez, Patricia Bernard, Jonathan Little, Randy Demarest, Abby Sullivan, and Tricia Canavan; along with Monson Savings Bank President and CEO, Dan Moriarty.
Monson Savings Bank is pleased to announce the election of six new Corporators. At the Bank's recent Annual Meeting, it was announced that Patricia Bernard, Tricia Canavan, Randy Demarest, Jonathan Little, John Perez, and Abby Sullivan had been elected by existing Corporators.
Additionally, Corporator Julie Quink, was named as a Trustee.
"The Monson Savings Bank family welcomes our new Corporators with open arms. These well-regarded, local professionals will undoubtedly add value to the Bank," said Dan Moriarty, Monson Savings Bank President and CEO. "Like our current Corporators, their values align with Monson Savings' values. They are invested in the wellbeing of our local communities because, like us, they are a part of these communities. We are assured that they will offer guidance to us as Corporators of the Bank, and they will support the Bank in better serving our communities."
Patricia Bernard resides in Springfield, MA and is deeply involved with the Springfield community. Bernard is the Vice President of Finance and Operations at Martin Luther King, Jr. Family Services. She is the Board Treasurer at the African American Female Professor Association, a Volunteer Tax Preparer for the IRS Volunteer Income Tax Assistance Program, and a Former Board Member of the Springfield Sickle Cell Association. In her spare time, Bernard enjoys singing with a Gospel ensemble.
Tricia Canavan is a resident of South Hadley, MA. Canavan is the CEO of the Tech Foundry, which is located in Springfield. Canavan's ties to the community include being the Board Chair of the Western Massachusetts Economic Development Council and a Board Member of the Associated Industries of Massachusetts. Additionally, Canavan is involved with the Massachusetts Business Alliance for Education, Springfield Public Forum, and Massachusetts Department of Elementary and Secondary
Education.
Randy Demarest is a resident of East Longmeadow, MA. Demarest is a Sales Executive at Conklin Office Furniture located in Holyoke. Demarest enjoys being involved in the local communities. Some of his community affiliations include the Office Furniture Recyclers, the East of the River Chamber of Commerce, the Greater Holyoke Chamber, and the Pioneer Valley Business Executives. In the past, Demarest coached youth basketball, soccer, softball, and swim teams.
Jonathan Little resides in Florence, MA. Little is a Real Estate Broker at Jennings Real Estate Service Inc. He previously was employed by the Bronson Companies, where he served as Director of Development. Little is a Licensed Massachusetts Auctioneer and enjoys spending time in the community in his role as Northampton Chamber of Commerce Ambassador.
John Perez is a resident of Springfield, MA. Perez is the Principal of Consilium Opis, LLC. Perez has a long-standing history of community involvement. He has had past and current involvement with the Rotary Club of Springfield, the Springfield Regional Chamber of Commerce, the World Affairs Council of Western Massachusetts, the Raising of the Dominican Flag Annual Event at Springfield City Hall, and the Dominican Cultural and Sports Center.
Abby Sullivan resides in Hampden, MA. Sullivan is the Vice President of Operations at Affordable Waste Solutions Inc. She was an integral member in the creation of Affordable Waste Solutions, which was incorporated in 2012. When she is not in her office, Sullivan enjoys spending time in the local communities.
Julie Quink is a resident of Hardwick, MA. She currently is the Managing Principal at Burkhart, Pizzanelli PC. Quink has an extensive history of serving the local communities. She serves as a member of the Board of the Mass CPAs, Treasurer of the Quaboag Hills Chamber of Commerce, a member of the Board and Finance Committee Member of Baystate Wing Hospital, Assistant Treasurer of Directors of Square One, Board Chair of the School Committee of Pathfinder Regional Vocational Technical High School, a member of the Finance Committee of the East Quabbin Land Trust, Board Chair for Greater Springfield Senior Services, Inc., Treasurer of Hardwick Rescue & Emergency Squad, Inc., Treasurer of Estate Planning Council of Hampden County, and Board Member of I Found Light Against All Odds. Additionally, she is an adjunct faculty in the MBA Accounting program at Elms College.
To learn more about Monson Savings Bank visit www.monsonsavings.bank.
Back to Blog List