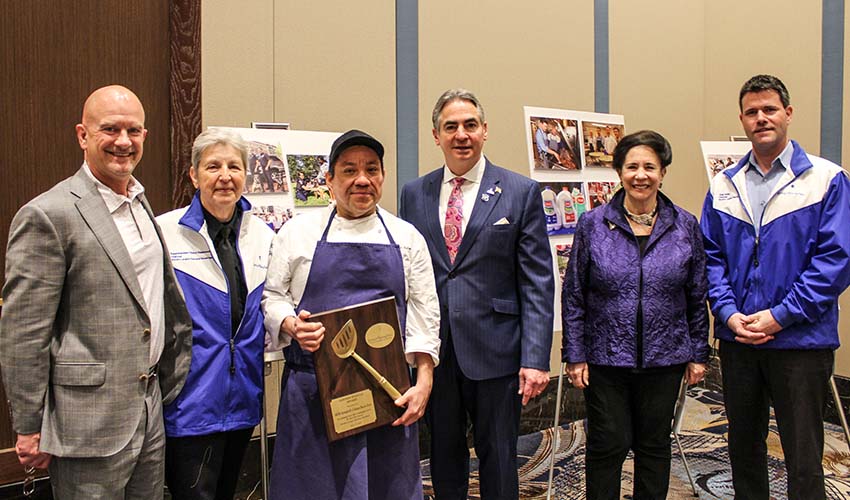 Monson Savings Bank Celebrates the World's Largest Pancake Breakfast Chairperson
Dan Moriarty, Monson Savings Bank President and CEO, (far left) along with other members of the Springfield community at the World's Largest Pancake Breakfast Chairperson's Reception
Like the Spirit of Springfield, Monson Savings Bank has been a longtime supporter of the communities and the residents of Western Massachusetts. As a continued sponsor of the cherished Pancake Breakfast, Monson Savings Bank proudly attended the 2023 World's Largest Pancake Breakfast chairperson announcement to kick of the celebration.
Dan Moriarty, President and CEO of Monson Savings Bank, was in attendance at the World's Largest Pancake Breakfast Honorary Chairperson's Reception when the exciting announcement was made that Springfield Police Superintendent Cheryl Clapprood would be this year's Chairperson.
"Cheryl has made countless contributions to the Springfield community, and it is certainly a better place because of her," said Dan Moriarty, Monson Savings President and CEO. "It was an exciting moment when it was announced that she would be the Chairperson."
The World's Largest Pancake Breakfast, presented by the Spirit of Springfield, took place on Saturday, May 13th. Monson Savings Bank made a $3,500 contribution to support this annual tradition.
"This is the second year in a row that the Bank has been a part of the World's Largest Pancake Breakfast," said Moriarty. "We are honored to have the opportunity to not only be a sponsor of this event but also attend and interact with the community at the breakfast."
This year the community bank hosted several fun activities at the breakfast. This included balloons for attendees, corn hole, giant Jenga towers, and free giveaways.
To learn more about Monson Savings Bank, please visit: www.monsonsavings.bank
To learn more about the Spirit of Springfield, please visit: www.spiritofspringfield.org
Back to Blog List