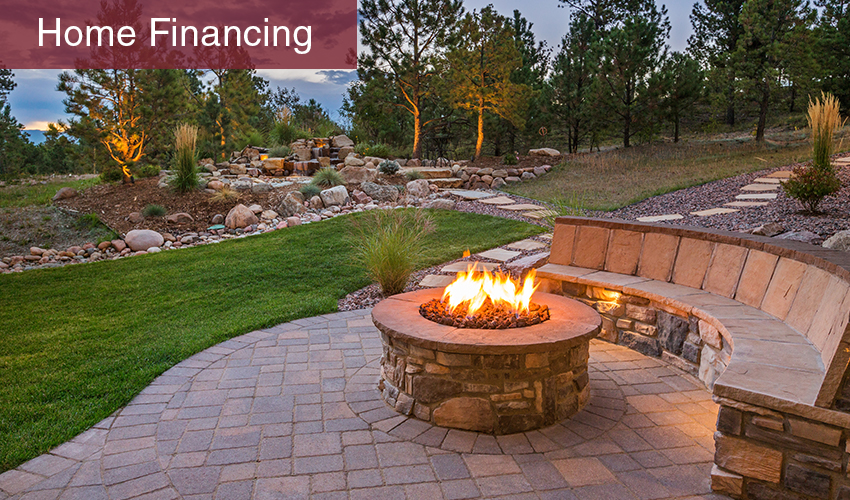 Great Home Upgrades to Tackle with a HELOC
Upgrading your home, making repairs or adding a renovation is a great way to use a Monson Savings Bank Home Equity Line of Credit (HELOC). Not only can home improvements benefit your quality of living, some may also even increase the overall value of your home. Home upgrades do not have to be costly or time consuming, they can be as simple as painting a wall. We have created a list of home upgrade ideas that can turn your house into your dream home including some that may even increase the property's value.
Home improvement ideas:
Kitchen remodeling: The kitchen is often the main gathering place in a home for many families, so investing in upgrades is always a great idea. And, if you plan to sell your home now or in the future, new kitchen countertops and cabinets are always a major selling point and can increase the overall value of your home.


Bathroom remodeling: There are some basic upgrades that can turn a regular bathroom into stylish bathroom. Simply upgrading from dated flooring, like linoleum tiles, to something more durable and waterproof, like ceramic tiles, will make the bathroom look more modern. Plus, ceramic tile flooring will make your bathroom water-resistant and last longer. Additionally, replacing old toilets and showerheads can reduce the amount of water you use, making your house more economical and eco-friendly. Buyers look for these bathroom upgrades when searching for a new home. The value of your home can increase with these simple upgrades.


Replace your older furnace: Replacing your older furnace sooner than later will save you money in the future. Furnaces installed before 1992 with standing pilots can waste 30-40% of the fuel they use and are also more than likely near the end of their service life. Plus, a newer furnace will increase your home's value!


Upgrade your water heater: Newer water heater units can be up to 20% more energy efficient. You will notice substantial savings on your monthly utility bills with an upgraded water heater. New water heaters are something that home buyers are typically looking for, so it will increase your home's value and your selling power.
Home office: Now more than ever it has become important to dedicate a space in your house for working from home needs. This space may not need to be large but in order for it to be an effective working location you may need to make some upgrades like painting, adding some new furniture, and purchasing supplies and technology. While this space may not make a huge increase in the home's value, it may still be a very necessary upgrade.


Finished basement: The possibilities with a finished basement are endless. You can create a home office, an entertainment area, a play room, a gym, and/or another bedroom. A finished basement is perfect for creating a space that you always wished you had in your home. On average, a finished basement will increase the value of your home by 70% of what was spent to remodel the basement[1].


Home addition: If you have an elderly parent moving in with you, your recent college grad moving back home, or you just wish you had a little more space in your house, an addition might be your solution. A HELOC can give you access to funds to expand your living space for any purpose.


Pools: A pool is the perfect way to relax, exercise, or entertain. After installed, a pool requires simple maintenance, plus a well maintained a pool is an upgrade that can stay in great condition for years. It estimated by experts that the average 14-foot by 28-foot in ground concrete pool can add 5% to 8% to the property value of your home[2].
Landscaping: Adding landscaping to a home can make the home more welcoming and colorful, plus the extra splashes of color can add major curb appeal if selling is in your future. Set a budget for your landscaping needs and then you can get quotes from local landscapers or visit a local garden center for advice.
Other ideas you can consider are adding a deck, patio or porch to your home, replacing old windows for more efficient ones, or redecorating your home the way you have always wanted. The possibilities are truly unlimited.
Monson Savings Bank's experts are ready to help you tap into your home's hidden value. With our quick, local decision-making and lending processing and our ability to offer you flexible repayment terms to fit your budget, our team will make the experience of a HELOC a pleasant one.
Contact us or Apply Online today!
Back to Blog List