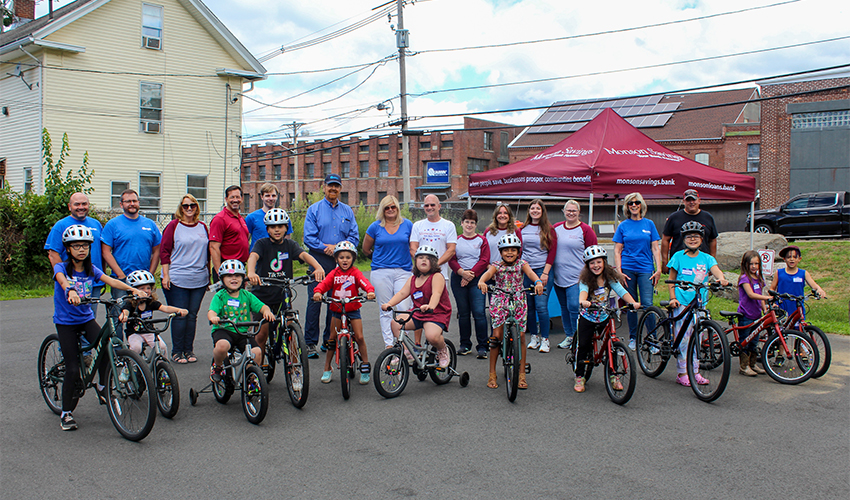 Monson Savings Partners with Quabbin Wire & Cable Co. for Build-a-Bike Event
Front row (left to right): Crystal Ye, Hailey Desourdy, Kaleb Rodriguez, Josh Cunningham, Lexy Cunningham, Athena Rodriguez, Kalea Nunez, Shilo Desourdy, Znairha Gonzalez, Harlow Laflamme, and Giann Carraquillo-Cruz.
In the spirit of their 150th Anniversary, Monson Savings Bank launched their 150 Build-a-Bike campaign this year, with more than $20,000 worth of bikes being purchased and donated to local children. The Bank partnered with various Western Massachusetts non-profits to host Build-a-Bike events throughout the year. For their sixth and final Build-a-Bike event of 2022, Monson Savings teamed up with Quabbin Wire & Cable Co. to build bikes for children in the Ware community.
Unlike Monson Savings' previous Build-a-Bike events this year, this event was co-hosted by Quabbin Wire. Quabbin Wire and Monson Savings Bank share a strong desire to give back to local communities. It was through this shared passion that they connected to work together to make this event possible. Quabbin Wire was excited to help cover the costs of the bikes and helmets for this event, as well as provide a venue for the event to be held.
Members of Monson Savings Bank and Quabbin Wire got to work assembling bikes, pairing children with the appropriate size bikes, and fitting helmets with Ray Plouffe, owner of Family Bike Shop in East Longmeadow. Many members of the Monson Savings team expressed feelings of gratitude at the end of the morning.
"Our team had a great time getting to know the children and their families. We were grateful to have such a beautiful morning to build bikes with them," said Dan Moriarty, President and CEO of Monson Savings Bank. "It was wonderful to see the excitement and joy this brought to everyone involved, but especially the children riding their new bikes. It was great seeing them get a safety lesson on the course Quabbin Wire assembled for them."
Paul Engel, Owner/President of Quabbin Wire & Cable Co., was thankful to Monson Savings Bank for their assistance in coordinating this Build-a-Bike event.
"Monson Saving's Build-a-Bike campaign has been great for the local communities and we are happy to help host one of these events," said Paul Engel, Owner/President of Quabbin Wire & Cable Co.. "Putting a smile on a child's face is a fulfilling feeling and today I saw many smiling children."
In addition to this event, Monson Savings Bank has partnered with the YMCA of Greater Springfield, YWCA- Western Massachusetts, I Found Light Against All Odds, South End Community Center, and Educare Springfield to host 150 Build-a-Bike events this year.
To learn more about Monson Savings Bank's 150th Anniversary, the Bank's historical timeline, and to view a full schedule of events visit www.monsonsavings.bank/anniversary
To learn more about Quabbin Wire & Cable Co., visit www.quabbin.com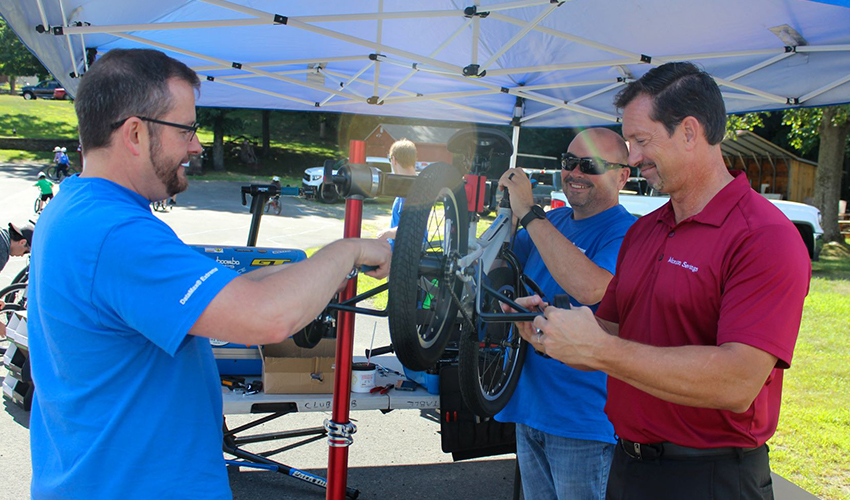 Michael Rouette, Monson Savings EVP COO (front right) assists Jason Sterndale, Quabbin Wire Regional Sales Manager (left) and Tim Johnson, Quabbin Wire Production Manager (back right) with building a bike.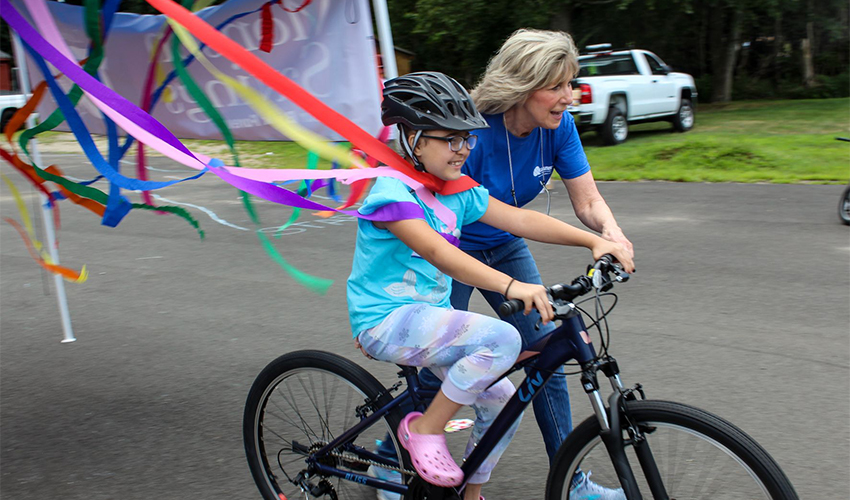 Stacy Gilmour, Quabbin Wire VP of HR, helps Znairha Gonzalez ride her brand new bike.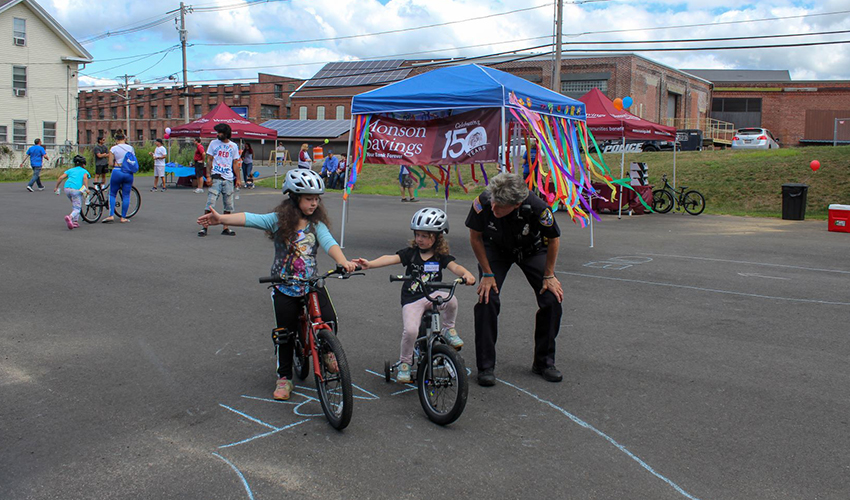 Officer Bonnayer of the Ware Police Department teaches Shilo (left) and Hailey (right) Desourdy turn signals to keep them safe on their new bikes.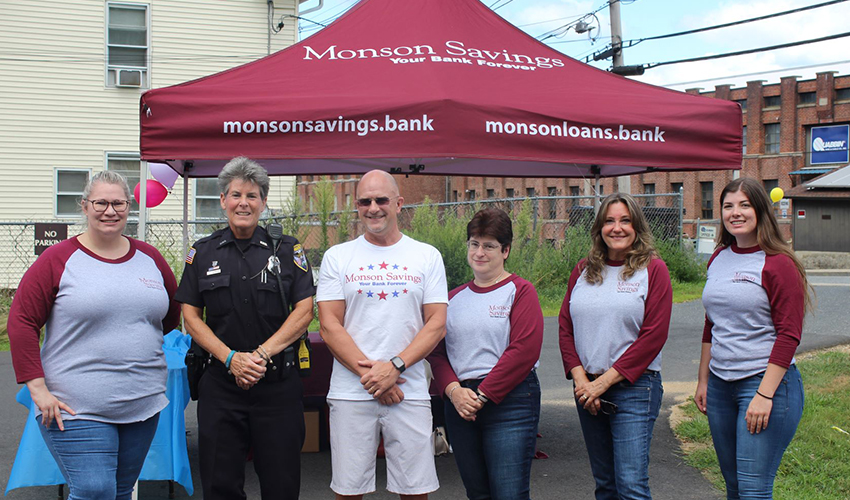 Left to right: Heather Arbour, Monson Savings AVP BSA/Fraud Officer & Compliance Manager; Officer Bonnayer, Ware Police Department; Dan Moriarty, Monson Savings President & CEO; Anna Calvanese, Executive Assistant; Terri Fox, Monson Savings SVP Chief Retail Officer; and Bridget Bunce, Monson Savings Deposit Operations Administrator.
Back to Blog List